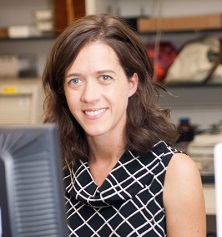 June 25, 2019
By Jennifer A. Smith
Addressing water challenges faced by Wisconsin communities is a key goal of the Wisconsin Water Resources Science-Policy Postdoctoral Fellowship—and that is just what Stephanie DeVries accomplished during her recently ended tenure as the 2018-19 Fellow.
DeVries lent her expertise to the city of Waupaca by studying increasing nitrate concentrations in two of its seven municipal wells.
At the May 21 meeting of the Waupaca Common Council, DeVries presented her findings. She had traveled to the central Wisconsin community frequently over the preceding year, doing fieldwork to inform the creation of a sophisticated, 3D groundwater flow model. She designed the model to explore several key questions related to this increased nitrate contamination.
Wells #5 and #6 lie just south of the city proper in the town of Lind. Together, these two wells provide up to 60% of Waupaca's water supply. Yet an increase in nitrate has been noted in recent years, particularly in well #5. While levels are still within federal limits, the upward trend has prompted concern. High nitrate levels in drinking water can have adverse impacts on human health, since nitrate can impact the blood's ability to carry oxygen.
DeVries' computer models identified each well's capture zone; uncovered reasons why nitrate is higher in well #5 than well #6, even though they are only about a football field's length apart; and considered land management strategies that could reduce nitrate in well discharge.
Her work was well received at the meeting of city leaders, prompting follow-up questions from the officials in attendance on how to best deal with the nitrate situation. Options include, but are not limited to, taking one or both of the wells offline, and buying or renting nearby parcels of land when the opportunity arises, so those pieces of land could either stay idle or be used for purposes that would not add to nitrate concentrations in the water supply.
While the decision making is up to city leaders, DeVries' work has provided scientific grounding to make an informed choice in the best interest of city residents.
Video of DeVries' presentation to the Waupaca Common Council may be viewed on the YouTube channel of the city's cable access station. (To watch, begin just after the one-hour mark at 1:01:42.)
During her time in Madison, DeVries was based at the offices of the Wisconsin Geological and Natural History Survey (WGNHS). Her fellowship was jointly supported by WGNHS, the Wisconsin Department of Natural Resources and the University of Wisconsin Water Resources Institute.
Now, DeVries is ready for a new destination: the scenic foothills of the Appalachian Mountains. DeVries, who earned her Ph.D. at the City University of New York Graduate Center, begins a faculty position this fall at the University of Tennessee-Chattanooga. She anticipates refining and building upon her Waupaca work once she is settled in Chattanooga.