June 26, 2018
Jennifer A. Smith
For Stephanie DeVries, a new postdoctoral fellowship has brought her full circle, reconnecting her with what inspired her to go to graduate school in the first place.
DeVries is a 2018 Wisconsin Water Resources Science-Policy Postdoctoral Fellow, based out of the offices of the Wisconsin Geological and Natural History Survey in Madison. Years ago, while working as a scuba instructor in Florida, "I got irritated by annual algae blooms on the reefs, and so I started poking around and found out that it was related to agricultural nutrients from sugar farms. And so I said, that's what I want to work on."
In New York, she completed a master's in geology at the City College of New York, followed by a Ph.D. at the City University of New York Graduate Center, where her focus was somewhat different.
But now, with her position in Madison, "Finally, after all these years, I'm doing the thing that originally inspired me to go to graduate school," said DeVries.  Her main role is on a project examining the challenges caused by groundwater nitrate contamination at Wisconsin's municipal water supplies.
Said DeVries, "We're looking at using modeling as a tool to try to discern land-use impacts on local municipal water supplies."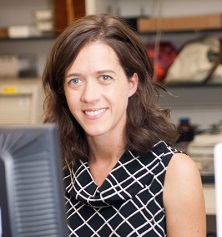 DeVries and her colleagues are working with the City of Waupaca and its Director of Public Works, Justin Berrens, to develop a more localized groundwater flow model.
Ultimately, the project is part of a larger partnership between WGNHS, the Wisconsin Department of Natural Resources (DNR), and UW-Madison's Water Resources Institute (WRI). "The larger scope is trying to better understand land-use relationships to groundwater quality and come up with management strategies that work for everybody."
DeVries' fellowship is hosted by WGNHS in partnership with the DNR and UW-Madison's WRI, which is housed under the Aquatic Sciences Center (ASC).
DeVries is the second Wisconsin Water Resources Fellow.  The position, according to Jennifer Hauxwell, Assistant Director for Research and Student Engagement at ASC, was "created in partnership between the university and state agencies for recent graduates to apply technical skills to a water resources challenge to help better serve Wisconsin communities. Dr. DeVries brings an excellent skillset to help us better understand and manage Wisconsin's groundwater resources, and we look forward to working with her over the next year."
While much of Devries' time will be devoted to science and public policy, she looks forward to spending the next year much closer to family in her home state of Iowa.
She'll also pursue a few of her passions.  The former roller derby player is hoping to become an official refereeing bouts in Madison's large and active derby scene.  She's also joined a ceramics studio to continue making art; in fact, art was her major as an undergraduate at Grinnell College.  Running and outdoor exploring will round out her free time.
"Madison's really welcoming, and there's so much here," said DeVries.