The University of Wisconsin Water Resources Institute (UW-WRI) promotes research, training and information dissemination to effectively confront water resources problems. It was formed in 1964 and is one of 54 such institutes at land grant universities in each of the 50 states, the District of Columbia, the Virgin Islands, Puerto Rico and Guam. The institutes are the primary link between water experts at the nation's universities and those who manage and use water. Collectively, the programs are known as the Water Resources Research Institute Program, which is authorized by the Water Resources Research Act of 1984. The program is administered by the U.S. Geological Survey. The UW-WRI is housed in the Aquatic Sciences Center (ASC) of the Office of the Vice Chancellor for Research and Graduate Education at the University of Wisconsin-Madison. ASC also houses the University of Wisconsin Sea Grant Institute, which has a complementary mission of research, education and outreach related to water – the coastlines and estuaries of the Great Lakes.
A onesheet provides program highlights.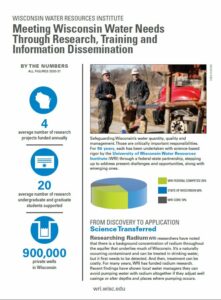 Please contact us if you need anything on this website in an alternate format.
Mission
The University of Wisconsin Water Resources Institute coordinates research that works to address present and emerging water quality, quantity and management challenges.