Former University of Wisconsin Water Resources Institute researcher, and now a post-doctoral fellow at the U.S. EPA Mid-Continent Ecology Division in Duluth, Minnesota, Ryan Lepak has been awarded the 2021 Raymond L. Lindeman Award from the Association for the Sciences of Limnology and Oceanography (ASLO). It is the leading professional organization for researchers and educators in the field of aquatic science.
"I am thrilled that our team was selected for this prestigious award. It represents work that would not have been possible without strong monitoring efforts like those at the Great Lakes Fish Monitoring and Surveillance Program at the EPA," Lepak said. "Across the board, at UW-Madison's Environmental Chemistry and Technology Program, the U.S. Geological Survey Mercury Research Lab and the Great Lakes Toxicology and Ecology Division Laboratory at EPA, this work exemplifies the innovative and multidisciplinary approaches requisite to creating impactful science. I am honored to tell this story alongside these colleagues."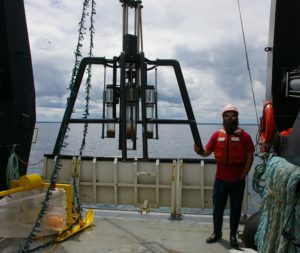 Each year, ASLO recognizes a young scientist for leading an outstanding peer-reviewed, English-language paper in the aquatic sciences. Lepak's paper, on which he was the lead author, is "Mercury source changes and food web shifts alter contamination signatures of predatory fish from Lake Michigan," published in Proceedings of the National Academy of Sciences (PNAS) of the United States of America.
Lepak and a team of researchers used a novel combination of mercury, nitrogen and carbon isotope analysis, which he termed "fingerprinting," on archived samples of lake trout from 1978 to 2012. From the same period, Lepak also examined archived samples of sediment taken from the lakebed to compare trends of mercury sources to sediments and fish.
The study years included a time when the Great Lakes were spared higher amounts of added mercury, in part because hospitals and municipalities stopped burning waste. That decline could have been expected to lessen mercury levels in fish. Yet, there had not been an obvious decrease in the mercury concentrations of sport fish.
The culprits behind this are invasive zebra and quagga mussels that exploded in Lake Michigan and now are estimated to number in the trillions. The mussels have caused significant shifts in lake trout feeding habits, forcing the fish to consume food that provides less energy while being more enriched in mercury.

In a statement released today by the organization, ASLO President Roxane Maranger said, "It is our pleasure to award Dr. Lepak the Lindeman early-career award for this outstanding paper. His work will certainly have far-reaching implications for assessing the combined influence of changes in contaminant source and concentrations as well as food web alterations in the study of mercury and other contaminants in aquatic ecosystems. We look forward with excitement to Dr. Lepak's continued contributions to aquatic science!"
The Lindeman Award will be presented to Lepak at the 2021 ASLO Aquatic Sciences virtual meeting in June.
Collaborators to the study published in PNAS include the U.S. EPA Great Lakes National Program Office; U.S. EPA Office of Research and Development; University of Wisconsin-Madison; Minnesota Science Museum; St. Croix Watershed Research Station; and the Chinese Academy of Sciences, Institute of Geochemistry.
The study was funded by the Great Lakes Restoration Initiative; U.S. Geological Survey National Institutes for Water Resources, University of Wisconsin Water Resources Institute; and the Wisconsin Alumni Research Foundation through the University of Wisconsin Office of the Vice Chancellor for Research and Graduate Education.