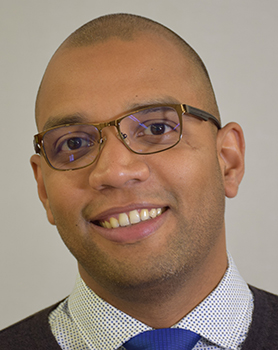 February 21, 2019
By Jennifer A. Smith
If things had worked out a little differently, Francisco Guerrero-Bolaño might now be a police officer in his home country of Colombia. But after one year of police training, he knew this path wasn't for him. He returned to school, following in the footsteps of a friend studying aquatic biology.
When he got to the water science part of the aquatic biology program, something powerful clicked. "I fell in love with water," said Guerrero-Bolaño, now the Wisconsin Water Resources Science-Policy Fellow. "Water is the thread throughout all my professional life. I'm always following water and the paths that it's taking."
Guerrero-Bolaño arrived in Madison last December to begin a one-year appointment as a postdoctoral fellow jointly supported by the University of Wisconsin Water Resources Institute (WRI) and the Wisconsin Department of Natural Resources (DNR). He is a recent Ph.D. graduate of Oregon State University's College of Forestry, where he had a dual focus on sustainable forest management and water resources.
So far, he's been highly pleased with the fellowship experience—even with the wicked polar vortex we've recently endured.
"The fellowship is really flexible, giving me the opportunity to develop technical skills and science communication skills, while also thinking about the philosophy behind what we do. It's all in the same package, and, to me, that's really wonderful," he said.
During his fellowship year, Guerrero-Bolaño's focus is on accounting for short, extreme precipitation events in water quality models. A key component of this analysis is the influence of the landscape and land cover on water quality.
"We do a lot of computer modeling, and we have really sophisticated computer models. We want to use rain data to actually see how that rain interacts with the landscape and translates into the export of nutrients, sediments and particles into the rivers," said Guerrero-Bolaño.
To better understand the issue, he'll seek to employ data that is captured more frequently than a standard, 24-hour interval. "A storm may take two to three hours, so you may miss that [when working with data measured every 24 hours]. We need to make a model that can take tiny temporal steps, like on an hourly scale, so we can actually represent these episodes [of heavy rainfall] in the model," said Guerrero-Bolaño.
Added Dr. Matthew Diebel, water resources modeler at the DNR and one of Guerrero-Bolaño's mentors, "We know from field observations that water quality in small streams can change in a span of minutes to hours from short, intense precipitation events. But until now, we haven't had the tools to assess the relative sensitivity of streams in different landscapes. This knowledge will help us design better management practices to protect water quality and predict the effects of climate change on water quality."
Aside from his technical goals, Guerrero-Bolaño has conceptual aims. He wants to help explain, particularly to non-technical stakeholders, why such computer models work and can be trusted.
Communicating with a range of audiences is crucial to Guerrero-Bolaño, whose office is located in downtown Madison at the DNR's Bureau of Water Quality. Said Diebel, "He is already helping DNR better engage with the citizens of Wisconsin on a variety of topics."
During graduate school, Guerrero-Bolaño organized science communication workshops for his fellow students to help them feel confident sharing their results. He brought in actors, storytellers and a graphic designer to help students think creatively about presentation techniques. At the DNR, he'll offer a workshop to his colleagues to share some of what he's learned.
All in all, it promises to be a jam-packed year for Guerrero-Bolaño, as well as a fruitful partnership between WRI and the DNR, who will benefit from his expertise while he builds valuable experience for the next phase of his career in water.
To get in touch with Francisco Guerrero-Bolaño, contact him at guerrero.francisco.jose [at] gmail.com.