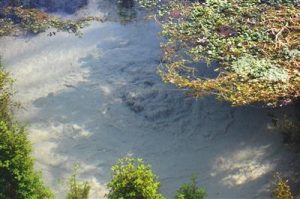 August 24, 2017
By Aaron R. Conklin
At a point in history when Wisconsin's precious waters seem to be both in greater demand than ever and facing an ever-growing list of environmental threats, the ways in which we manage and allocate this key resource become more important than ever. Understanding the impacts of our changing water use is a central thread that ties together a four-pack of ongoing research projects funded by the University of Wisconsin Water Resources Institute. They include:
A UW-Madison researcher is deploying airborne high-definition spectrometry to collect images that map the health of Wisconsin's fens—a particular type of wetland that's dependent on groundwater with a certain type of water chemistry. His research may help the state's Department of Natural Resources more effectively evaluate permits for high-capacity wells in areas near fens.
Another UW-Madison researcher is mapping the historic use of Wisconsin groundwater resources by trees. Zeroing in on forests in Wisconsin's north woods and Central Sands regions, the research team will use core samples from the trees to compile a historic record of how trees have responded to year-to-year variability of shallow groundwater resources. Their findings will inform both forest and water resource management practices.
Researchers with the Wisconsin Geological and Natural History Survey plan to use 3D modeling techniques to map the topography of the Cambrian sandstone aquifer, a major source of groundwater for many counties in south central Wisconsin. The shareable map they'll create by the end of the project will serve as a guide to inform future development decisions that protect existing wells and prevent potentially damaging disruptions of current groundwater flow.
A pair of UW-Platteville researchers is using growth rings from oak trees in southwestern Wisconsin to gauge the historic impact of severe drought events on groundwater supply over the past five centuries. The data they collect will inform future groundwater modelling efforts and groundwater management decisions by incorporating long-term climactic trends.
"This set of projects represents an important investment by the UW System toward understanding Wisconsin's groundwater challenges related to quality, quantity and management," said Jennifer Hauxwell, WRI's Assistant Director for Research.
These four projects are in addition to other ongoing work supported by WRI, including a larger suite of partner-funded projects. Established in 1964, the Water Resources Institute has funded more than 125 research projects throughout Wisconsin. On average, it supports 20 to 25 graduate and undergraduate students at public and private state colleges each year.