New program targets youths and educators in Milwaukee to develop Great Lakes literacy skills
May 27, 2020
By Marie Zhuikov
A report released last year showed that Wisconsin has the largest academic achievement gap between African-American and white students in the nation. The National Assessment of Education Progress tested fourth- and eighth-graders in 2019. African-American students in Wisconsin posted the lowest reading and math scores, as well as in science.
A new two-year Water Resources Institute project will work to help close this gap. Set in Milwaukee, home to the largest number of African-American students in the state, the project is a collaboration among the University of Wisconsin Madison Division of Extension Natural Resources Institute staff and three partner schools. Approximately 100 students, ages 10 to 15, and at least two educators will take part in the project.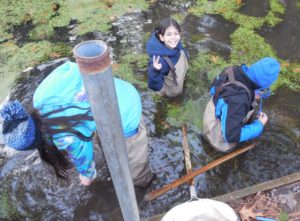 Extension staff will train teachers in ways to foster student inquiry and science observations skills. They will also travel to the schools — Escuela Verde, La Escuela Fratney and Maryland Avenue Montessori — to facilitate sessions with students to develop water-related research projects.
Justin Hougham, project principal investigator, is director of the university's Upham Woods Outdoor Learning Center and an associate professor at UW-Madison. Hougham said, in addition to meeting needs identified by the National Assessment survey, the project's framework comes from a biannual survey Extension conducts on the status and needs of environmental education groups in Wisconsin.
"The No. 1 skill that people wanted was for their organizations to be better at diversity, equity and inclusivity work in environmental education. The No. 1 content area (which is different than a skill), was support for STEM work. They also wanted increased information and opportunity for professional development around using technology in environmental education," Hougham said.
Students will receive hands-on experience using science technology in the field in their local communities. This includes equipment such as thermal imagers, digital microscopes and water testing tools. They will also learn how to apply the scientific method to their projects.
Hougham explained how he and his team of Isabelle Herde and Zoe Goodrow with UW-Madison will take the project one step further. "We realized the more important or impactful thing we can do is not just have people be better at looking at data, but to be more skilled at telling stories with that information. More specifically, telling stories about environmental issues in their community that are important to them. We want to look at environmental issues through the lens of our youth and educators."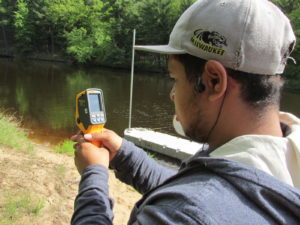 The students can share their stories via social media, science fairs and community events.
Because the rivers flowing through Milwaukee are part of the Great Lakes watershed, the project will connect students to the Great Lakes through their research projects, and so will improve their Great Lakes literacy.
"We're excited to be doing this work," Hougham said. "It's connected to a lot of previous projects that we have had in the Milwaukee area, which will allow it to be successful. It's important to take the long view on environmental issues, but also with community engagement in them."
The team hopes these connections will help build a generation invested in the health of one of the largest sources of fresh water in the world – and close academic gaps.