Nov. 7, 2019
By Marie Zhuikov
When he's not entertaining visitors to the Great Lakes Aquarium in Duluth, Minnesota, by diving and feeding the sturgeon in the huge Isle Royale tank, Ryan Lepak is working at the Environmental Protection Agency Laboratory (also in Duluth). He's looking at sources of methylmercury in fish and how it accumulates in and moves through the Great Lakes environment.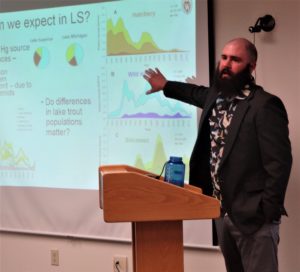 Lepak, a Superior resident, is the first postdoctoral research fellow in a new partnership project between the EPA's Great Lakes Toxicology and Ecology Division, the University of Wisconsin-Madison and its Aquatic Sciences Center. The goal of the three-year U.S. Environmental Protection Agency Human Health and the Environment Research Fellows program is to train the next generation of scientists in environmental and ecosystem health.
Lepak's EPA mentor is Research Biologist Joel Hoffman. They are analyzing mercury concentrations in frozen lake trout specimens collected in the Great Lakes since 1973. Additionally, they are looking at Great Lakes sediments, which offer a record of mercury deposition, to try and understand what drives differing mercury concentrations in lakes.
"The ability to look at the bioaccumulation of mercury right at the planktonic level is often the most important thing that controls mercury concentrations in fish," Lepak said. "The opportunity to do this research at the EPA Office in Duluth has developed my understanding of Great Lakes science and connected me with scientists who are equally passionate about these lakes."
Lepak is no stranger to the University of Wisconsin System. He earned his undergraduate degree in chemistry at UW-La Crosse, working with its River Studies Program. He completed his master's in environmental chemistry and technology at UW-Madison under the watchful eye of Jim Hurley, Aquatic Sciences Center director. They investigated how invasive mussels and giant algae beds (Cladophora) changed mercury cycling in the nearshore region in Lake Michigan. Lepak then continued to earn his Ph.D. in that same program, researching mercury contamination in lake trout.
Lepak is excited about this opportunity. "With their direct access to Lake Superior, the EPA has a lot of excellent resources that aren't available in Madison. It seems like an ideal situation for a post-doc – to get exposure to a new professional lab setting, a new set of colleagues who think about the Great Lakes, and seeing how government research functions within the EPA," Lepak said.
He's already completed six months of his one-year fellowship. At the moment, he's switching gears to work on a National Science Foundation project and said his EPA fellowship will re-initiate in a year-and-a-half.
"I've learned a tremendous amount," Lepak said. "I've picked up skills from colleagues and friends here on how we can leverage Geographic Information System analyses to improve our understanding of the links between mercury deposition and land use, and how these things are interconnected. I'm gaining meaningful insights into the science I'm working on."
Eventually, up to eight trainees per year could be placed at the Duluth EPA Laboratory, ranging from undergraduate students, graduate students, and postdoctoral fellows such as Lepak. They will focus on four EPA priorities: systems toxicology, watersheds and water resources, ecosystem services and translational toxicology.