July 16, 2020
By Jennifer A. Smith
Pyrite, the mineral commonly known as fools' gold for its luster and yellowish hue, can be found in the sandstone formations of Wisconsin, including in Trempealeau County.
Water Resources Institute-funded researchers are now examining what happens when that pyrite meets oxygen and microbes deep below the surface, particularly at circumneutral pH, a situation that has not been well understood up to this point. This intermingling could affect groundwater quality.
The research team's two-year project ("Microbially mediated oxidation of trace element-bearing sulfide minerals in sandstones of Trempealeau County, Wisconsin") began in summer 2019.
The team consists of University of Wisconsin-Madison professors Eric Roden and Matt Ginder-Vogel, along with geoscience graduate student Lisa Haas and Beloit College professor Jay Zambito.
Zambito was formerly with the Wisconsin Geological and Natural History Survey and, while there, worked on an earlier WRI-funded study with hydrogeologist Mike Parsen (also at the survey) that established some of the basis for the current study in terms of the presence of pyrite in two geologic units.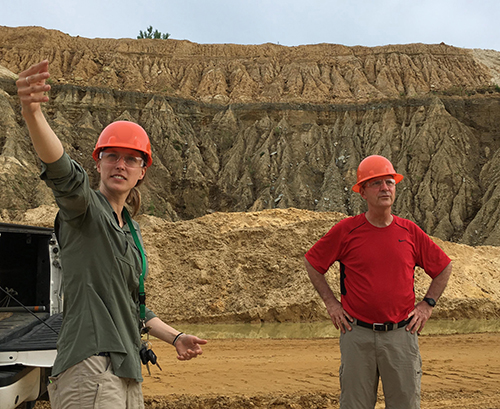 The current study focuses on material found in the Tunnel City Group and Wonewoc Formation. While these rock units underlie much of the state, in Trempealeau County they are close to, or exposed at, the land surface and, depending on the amount of oxygen in the subsurface, have been observed to possess a notable amount of pyrite.
Roden described it: "In these sandstone formations, the pyrite is present in a state that you might call disseminated; it's basically spread throughout the aquifer sand," with the distributions varying in size and precise location.
What happens is that "when the pyrite in the sandstone is exposed to oxygen in groundwater, it reacts with the oxygen and that causes two things. One is that the mineral gets destroyed, if you will. It becomes oxidized," he said. That results in a lowering of the groundwater's pH. In turn, that increased acidity can lead to the release of toxic trace elements into the groundwater—things such as iron, arsenic, cadmium, zinc and lead—that have the potential to negatively affect groundwater quality.
The researchers believe this reaction is being sped up by the presence of microbes deep below the surface. "We've been working with the possibility that microbes, through their metabolism, can accelerate the reaction of oxygen with pyrite—and this is what's crucial—at neutral pH," said Roden.
Ginder-Vogel summarized, "It's the microbes, water and minerals, and it's this really interesting interface that is super dynamic and constantly changing. It's really interesting from a broad groundwater perspective."
The role of frac sand mining
The study bears a connection to industrial sand mining, also called frac sand mining, in this part of the state. When companies scrape off material known as "overburden"—in this instance, the Tunnel City Group rock—they set it aside in order to get to the sand (here, the Wonewoc Formation) they seek underneath. They later use the excavated overburden and low-quality sand for reclamation. However, the geologic material that was isolated in the subsurface is now disturbed and exposed to atmospheric levels of oxygen and rain at land surface. If pyrite was present in the rock, it will oxidize.
The team will examine whether this excavation and piling of materials help lead to the release of trace elements as a result of pyrite oxidation, which could have implications for the water quality of homeowners in the area. In experiments, they are working with collected samples of overburden and non-valuable geologic material and will be able to compare those with material collected from rock core of the geologic units of interest.
Haas, the graduate student, is running the lab experiments. A native of Mount Horeb, she completed her bachelor's degree in the geoscience department in 2016 and then spent a few years with the Wisconsin Geological and Natural History Survey before beginning graduate school. As an undergraduate, she served as a research assistant to Zambito and Parsen on the earlier, related study.
For the current project, she is wrapping up the first set of experiments capturing pyrite oxidation and subsequent metal release from subsurface rock samples of the Tunnel City Group and Wonewoc Formation in unfiltered groundwater samples with the native aquifer microorganisms—the microorganisms thought to be accelerating the pyrite oxidation reaction.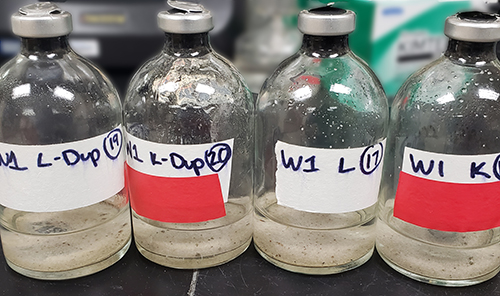 As Haas described the process, "What we did is collect groundwater with some of those native microorganisms, and I put them in a vial and monitored chemical compounds that are produced as a result of this mineral dissolving and found that, with the native microbial communities, pyrite will dissolve faster than abiotically. So microorganisms are…significant drivers to this reaction."
The next set of experiments will investigate pyrite oxidation in Tunnel City Group overburden and unprocessed sand from the Wonewoc Formation as described previously.
A kind of universality
While this experimental, analytical study is not designed to survey impacts to groundwater or surface water in Trempealeau County, it lays a foundation for possible future work.
"Our findings have a kind of universality," said Roden. "Microbes are everywhere. And whatever we find, I can guarantee that that would apply in other environments where the lithology and also the hydrology were similar… All the details of what happens where on the landscape are determined by geology, but the microbes and the chemistry are always there."
Ginder-Vogel echoed that thought: "These are reactions that are occurring everywhere. [Frac sand] mining may accelerate some of the reactions, and that's where fundamental types of science—and what Eric and I do—comes in. We can understand these reactions and start to think about what types of processes might push them one way or push them another way, and then bring in some smart hydrologists to help us model what actually happens."