With the new year comes a rating of "outstanding" for the University of Wisconsin Water Resources Institute (WRI) based on a review conducted in 2019 by the program's funders at the U.S. Geological Survey.
Earl A. Greene, director of the Water Resources Research Act Program, transmitted the review results to WRI's Director Jim Hurley in a Jan. 2, 2020 letter that commended WRI for its strong program, "well focused on research to solve state water issues, student education and information transfer. This well balanced program is instrumental in achieving the goals of the Institute."
The letter went on to call out the efforts of funded researchers who are publishing at a high rate in well-regarded publications, the program's leadership and excellent information transfer efforts that are well integrated with research.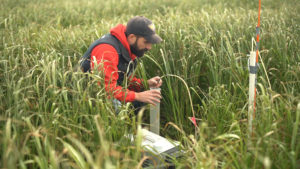 The federal review panel evaluated the activities of 54 water resources institutes and centers, based in each of the 50 states, as well as the District of Columbia, Puerto Rico, U.S. Virgin Islands and Guam. The years under review had been 2011 through 2015.
"Each day, I am gratified by the work that we are able to accomplish through the Water Resources Institute, whether it's supporting Wisconsin's researchers in finding ways to identify and reduce contaminants in our drinking water, understanding the effects of climate change on Wisconsin waters or supporting students in learning and in developing our workforce. Along with our mission to share research findings with you and other relevant audiences, we play an important role in addressing Wisconsin's water challenges and opportunities," said WRI's Associate Director Jennifer Hauxwell.
"The findings of this U.S. Geological Survey review of our program are just another welcome validation for what we are able to do for our fellow citizens who rely on one of Wisconsin's most valuable assets – water," she concluded.