Jan. 9, 2020
By Jennifer A. Smith
Too much salt is never a good thing—whether on your dinner plate or on sidewalks, driveways and roads during a long Wisconsin winter.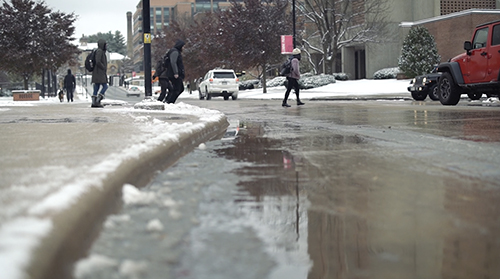 When that salt dissolves on paved surfaces, it goes anywhere the water goes, making its way from storm drains into lakes and other waterbodies. That salt runoff increases the concentration of salt in our waters, affecting not only surface water but also groundwater (the source of drinking water for most Wisconsinites).
Thanks to a new video (two, actually), Wisconsinites can brush up on their salt smarts. The videos were backed by a group of partners that included the University of Wisconsin Water Resources Institute, UW-Madison, UW-Madison's Nelson Institute for Environmental Studies, Wisconsin Salt Wise and the Madison Metropolitan Sewerage District.
A five-minute video is aimed at general audiences, offering tips on how to apply de-icing products most effectively, depending on the air temperature, pavement temperature and type of product. The amount of salt needed to be effective may be less than you think! For example, just one coffee mug full of salt can treat a 20-foot driveway or 10 sidewalk squares.
A longer, ten-minute version of the video was designed for UW-Madison maintenance staff, who work tirelessly throughout the winter to keep the campus a safe place.
As the video notes, the Wisconsin Salt Wise website has a product application calculator that can help take the guesswork out of this task.
Abigail Ernst, who completed her master's degree in water resources management at UW-Madison in December 2019, worked on the videos' content and appears onscreen along with fellow water resources student Tristyn Forget. The videos were part of Ernst's practicum for her degree. As she noted, this project grew out of stakeholder needs. While UW-Madison custodial staff strive to be mindful of salt use, they also knew it was an area for improvement and ongoing staff training.
Said Ernst, "One of the most rewarding parts of producing this video was the wide variety of people I got to collaborate with. I enjoyed working closely with the custodial department, specifically Kris Ackerbauer, Steve Heitz, Brad Marta and John Brixy. They are such a welcoming and accommodating group. I was so happy we could develop a training video that was primarily driven by their wants and needs."
While translations of the longer video are still in progress, eventually it will be captioned in Tibetan, Hmong, Spanish and Nepali—which, along with English, are the most common languages spoken by UW maintenance staff.
Bonnie Willison, video producer for the Water Resources Institute and Wisconsin Sea Grant, worked with Ernst and other collaborators to bring the content to life in a concise and compelling way.
Both videos bring science and practical tips together to address what Hilary Dugan, a UW-Madison assistant professor of integrative biology interviewed in the videos, stresses is a solvable problem.
By brushing up on our winter knowledge, we can all do our part to promote public safety (after all, no one wants to wipe out on the sidewalk!) while protecting our freshwater resources.