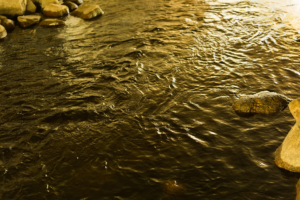 July 25, 2018
By Marie Zhuikov
The University of Wisconsin Water Resources Institute (WRI) is funding three new projects that will begin in July. The projects will span two years and represent the best in terms of topical relevance and scientific quality of those submitted to the committees that review them.
"Relevance and quality are basically the two things we look at," said Jennifer Hauxwell, WRI's assistant director for research and student engagement. "These are all really good, well-proposed studies that definitely hit on important topics and priorities for our state. They all have implications for how we manage this amazing shared resource."
Two University of Wisconsin-Milwaukee researchers are looking at arsenic concentrations in private well water in Outagamie, Winnebago and Ozaukee counties. Arsenic is a naturally occurring element that can cause health problems when in drinking water. The researchers are hoping to obtain more accurate pictures of the typical levels of arsenic to which homeowners are exposed. The standard practice is to flush wells for more than an hour before sampling, which can lead to an underestimate of the actual level and types of arsenic in the water. By not flushing before sampling, this project could lead to a better understanding of arsenic concentrations in Wisconsin's private drinking water wells so that long-term exposure health risks can be more accurately assessed, and more effective water treatment techniques can be developed.
Two UW-Madison investigators will spend time in the Wisconsin Central Sands area collecting data about nitrogen fertilizer use and irrigation management with future weather patterns in mind. The goal is to optimize economic returns for potato and vegetable farmers and increase irrigation water use efficiency in the area, while reducing the amount of nitrogen lost to the groundwater system.
Another UW-Madison researcher will analyze how tiny natural particles (dissolved organic matter) found in drinking water react when disinfectants (like chlorine) are added during treatment. Such reactions can pose a human health risk because they form harmful byproducts. Also, little is known about the type of dissolved organic matter (DOM) in groundwater, despite its importance as a major source of drinking water in Wisconsin. Water samples from 20 drinking water utilities in the state will be collected and analyzed for DOM before and after treatment with chlorine. Closing this knowledge gap could lead to safer drinking water treatment practices by water managers.
These three projects, funded through the University of Wisconsin System with money from the U.S. Geological Survey, are in addition to other ongoing work supported by WRI, including a larger suite of partner-funded projects.
Since 1990, the Water Resources Institute has funded more than 190 research projects throughout Wisconsin.