A new interactive map of Wisconsin lays out, county-by-county, projects funded through the Wisconsin Groundwater Research and Monitoring Program since 1985.
Clicking on each of Wisconsin's 72 counties indicates the number of projects that have happened in that location out of 474 during the last 36 years.
The map is also a visual representation of where groundwater challenges have been particularly pronounced through the decades. This includes conditions such as naturally occurring radium that's harmful to humans in Waukesha County (27 projects), a greater susceptibility to contamination in Door County thanks to a thin layer of topsoil covering porous bedrock (25 projects) and water quality and quantity challenges in Portage County (51 projects).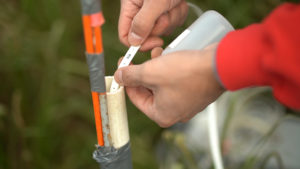 Results from at least 120 projects can be applied to statewide groundwater issues, and others only involved laboratory explorations so didn't factor into the county-by-county breakdown. Examples include projects investigating emerging contaminants or legacy chemicals used in agriculture in many corners of Wisconsin, and assessments of petroleum spills that resulted in contamination or leaching from landfills. Project details can be found on the University of Wisconsin Water Resources Institute (WRI) website.
Most of the researchers who conducted the projects have been based at university system schools. A relatively small number of Wisconsin Department of Natural Resources scientists have also led or been a part of the research teams. The majority of the research has been done by scientists based at the flagship campus in Madison.
The largest number of field-based projects took place in Dane County (63). In numerous instances, field work done in Dane County can also be extrapolated to other parts of the state. Further, being able to do research close to campus has been a cost-effective way to gather data without incurring overnight travel expenses.
In 1985, Wisconsin Act 410 established the Wisconsin Groundwater Coordinating Council, which then established the Wisconsin Groundwater Research and Monitoring Program as the mechanism to select and fund annual groundwater research projects. It ensures collaboration and coordination on groundwater issues between the University of Wisconsin System as represented by WRI and the state agencies with groundwater oversight, including the Wisconsin departments of Agriculture, Trade and Consumer Protection; Transportation; Safety and Professional Services; and Natural Resources, as well as the Wisconsin Geological and Natural History Survey, which is based at the University of Wisconsin-Madison.