Methylmercury uptake rate in phytoplankton is among the highest recorded   
Sept. 22, 2021
By Moira Harrington
A recently published study in the journal of the American Chemical Society, Environmental Science and Technology, found that while Great Lakes waters harbor low methylmercury concentrations, the rates of methylmercury transfer to phytoplankton are extremely high, higher than rates observed in open oceans. Phytoplankton are the smallest organisms in an aquatic food web.
Researchers, including a UW-Madison-supported postdoctoral scientist, say this is important because the bioaccumulation of methylmercury into phytoplankton sets the baseline for methylmercury levels in fish.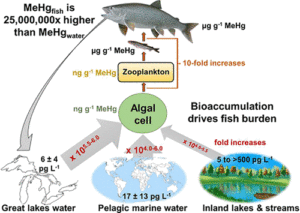 Methylmercury is highly toxic and is the form most encountered by people. This is generally through eating fish and shellfish, which is why advisory consumption guidelines are issued, particularly targeted toward pregnant women and young children. However, monitoring fish and shellfish varieties—some have higher levels of methylmercury—and consumption frequency, people can still enjoy the health benefits of omega-3 fatty acids found in the food.
From 2010 to 2018, the U.S. Geological Survey Mercury Research Lab in Madison, Wisconsin, teamed up with the U.S. EPA and its research vessel the Lake Guardian to monitor inorganic and methylmercury dynamics in the five Great Lakes. This was done through a combination of vertically, seasonally and spatially comprehensive water quality measurements and analysis of seston collections, which is the suspended particle mass in the lakes made up of plankton, bacteria, bugs and detritus.
Ryan Lepak, a postdoctoral scientist (Ph.D. UW-Madison, 2018) through the University of Wisconsin Water Resources Institute and its sister organization, Sea Grant and stationed at the U.S. EPA Mid-Continent Ecology Division in Duluth, Minnesota, said, "Ultimately, the study concluded the very low concentrations of dissolved organic carbon, the substrate which competes with phytoplankton for methylmercury but also can serve as a source of sustenance, in these lakes likely create a scenario where methylmercury transfer to phytoplankton is facilitated. The planktonic methylmercury levels are quite low, but exceedingly higher than we'd expect considering the extremely low methylmercury levels in the waters in which they reside."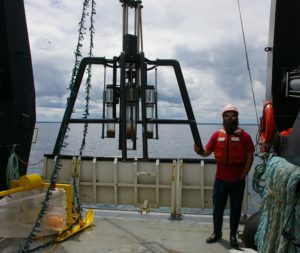 Lepak continued by explaining the transfer of methylmercury up the lower food web, from phytoplankton to herbivorous zooplankton and then to omnivorous zooplankton, was not statistically different. Finally, he and the team tested whether water-mercury concentrations have declined over the study period and determined that without more routine continuous monitoring, trends could not be identified because unresolved sources of variability masked data trends.
"The conditions that make the Great Lakes highly susceptible to methylmercury bioaccumulation are common to the world's great lakes," Lepak said. "These global water bodies should serve as excellent sentinels to track the impacts mercury reductions at local, regional and global scales have on biota. This paper's important finding could aid those planning global mercury monitoring networks aimed at tracking mercury reductions due to actions resulting from the Minamata Convention on Mercury, a multilateral environmental agreement the U.S. signed in 2013 and which would reduce global mercury pollution."