Jan. 31, 2018
by Moira Harrington
More than 100 water managers and researchers will meet March 8 and 9 at the Paper Valley Hotel in Appleton for the annual American Water Resources Association Wisconsin Section meeting to discuss and strategize regarding water challenges and opportunities.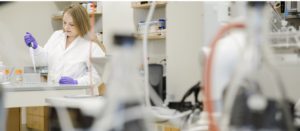 Wisconsin has a wealth of water—1.2 quadrillion gallons of groundwater; lakes Michigan and Superior; the Mississippi, Wisconsin and St. Croix rivers; more than 5 million acres of wetlands; and more than 15,000 lakes—yet all of that volume does not guarantee it's without challenges and opportunities. That is especially true when balancing industry needs, the environment and public health.
"This is an energizing meeting and one that never fails to spark new ideas to be better stewards of Wisconsin's water and to the benefit of industry while balancing environmental and public health considerations," said Amanda Bell, president of the Wisconsin section. "I am pleased we will once again learn from the more than 40 presentations, three keynote speakers and more than 20 posters. Then, we take that knowledge back to every corner of Wisconsin to serve local water needs."
Breakout sessions for the meeting will include topics about managing water resources, surface water and urban water quality, measuring, monitoring and modeling, surface water and groundwater.
The plenary speaker is Michael Tiboris is global water fellow at the Chicago Council on Global Affairs and public fellow for the American Council of Learned Societies.
"A particular focus at each of these meetings is supporting students because they are the up-and-coming leaders we will rely upon to best use our water in the future," Bell said.
There is a student career workshop set for noon to 2 p.m. on March 9 to highlight job opportunities. Students also share their posters about current research activities.
Further information is available at state.awra.org/Wisconsin/2018meeting.html. The meeting is sponsored by the University of Wisconsin Water Resources Institute; Wisconsin Department of Natural Resources; Center for Watershed Science and Education, University of Wisconsin-Stevens Point; Wisconsin Geological and Natural History Survey; and the U.S. Geological Survey Wisconsin Water Science Center.