The University of Wisconsin Water Resources Institute (WRI) won a communications award in an international competition sponsored by Apex. Awards are based on excellence in graphic design, editorial content and the ability to achieve overall communications effectiveness. APEX Grand Awards honor the outstanding works in each main category, while APEX Awards of Excellence recognize exceptional entries in each of the individual subcategories.
An invitation created by WRI's graphic designer Yael Gen for an event commemorating Groundwater Awareness Week won an Award of Excellence in design.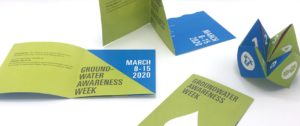 "We are honored to have been recognized for the effectiveness of this piece, which calls attention to an important topic—the value of our groundwater," said Moira Harrington, assistant director for communications. "Yael is a talented designer, and her work ensures critical audiences, in this case state legislators and staff, learned more about this asset that feeds lakes and streams, and serves households along with agriculture and manufacturing needs."
WRI's sister organization, Sea Grant, also won awards for a marine debris teaching tool and a video about research on cisco, a Great Lakes fish.
The competition drew nearly 1,200 entries from around the world, including from including from Fortune 500 companies, non-profits and academic units.