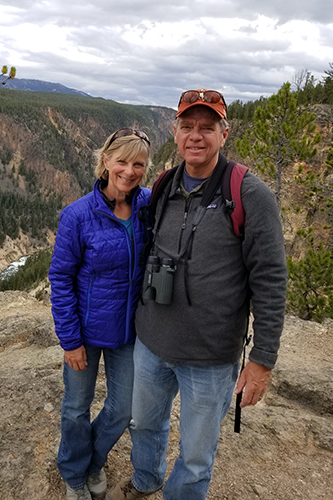 February 22, 2019
By Jennifer A. Smith
One of the familiar faces around Goodnight Hall—the home of the Aquatic Sciences Center—since spring 2018 is Associate Fellow Steven R. Greb. Retired after 32 fruitful years with the Wisconsin Department of Natural Resources (DNR), Greb continues to protect Wisconsin's waters using innovative technology.
Greb began his tenure at the DNR's research bureau in 1986, fresh from graduate school at Utah State University. For the Menomonee Falls native and undergraduate alum of UW-Stevens Point, it marked a welcome return to his home state. "We did a lot of really interesting work (at the DNR). When you have fun and are constantly learning, those are good jobs to have, and so I spent my career there," said Greb.
It was at the DNR that Greb met Jennifer Hauxwell, who was with the agency before taking on her role as an assistant director with the Aquatic Sciences Center (ASC). Hauxwell helped facilitate Greb's honorary role at the ASC.
One of Greb's major endeavors at the DNR was using satellite remote sensing to measure water quality from space, something that attracted considerable attention both nationally and internationally. These efforts required extensive collaboration since, as Greb noted, "The state of Wisconsin is not going to build a satellite." Greb worked with space agencies and other scientists around the country and globe. Those interactions led, in time, to his being invited to serve a three-year term on a body called the International Ocean-Colour Coordinating Group (IOCCG).
As the name implies, IOCCG focuses on oceans, while Greb's focus has been on inland waters—so he proposed a working group of the IOCCG on using satellite and remote sensing for inland water quality.
Those efforts resulted in a 2018 publication of which Greb is quite proud: the report "Earth Observations in Support of Global Water Quality Monitoring" (IOCCG report No. 17, which is available online).
Greb assembled top researchers from many countries. He began with a group of 15, and that group eventually expanded to 22.
Their report, which Greb co-edited, is constructed in three sections, each geared to a different audience: end users (such as water quality managers and lake property owners), the scientific community and space agencies. The final chapter contains recommendations for all three groups and also identifies issues such as gaps in the science and what space agencies should consider in the next generation of satellites.
While Greb said some skepticism of satellite remote sensing remains, the technology is getting better and better all the time. He stresses that the technique, combined with in situ water samples, reveals more about water quality than either approach could alone. "For example, a sample taken at a single point may not truly represent water quality conditions of the whole waterbody, whereas a satellite image gives you a better sense of the spatial variability across the waterbody," said Greb.
Aside from his activities at the ASC, Greb maintains a one-third appointment on the University of Wisconsin-Madison campus through the Space Science and Engineering Center. He also continues to serve as the director of Aqua Watch, a community of practice around water quality within the Group on Earth Observations.
With all of these professional activities, Greb's "retirement" may seem like a misnomer. Yet he still finds time to enjoy hobbies and travel with his wife, Julie. As avid cyclists, the two have taken bike trips to France and Ireland. Greb also enjoys skiing, gardening and woodworking.
To get in touch with Steve Greb, contact him at srgreb [at] wisc.edu.