In the late 1800s, the field of limnology (the study of lakes) had its birth in North America when what is now the University of Wisconsin-Madison's Center for Limnology began its formative years.
Zoologists Edward Birge and Chancey Juday offered vision and leadership for this take on water science. They went heavy on field work and produced dozens of papers expounding lakes' chemistry, biology and geology. They were committed to fostering student experiences and learning.
A thread of connection to those early days of freshwater study and student support carries through to today with the arrival at the Water Resources Institute (WRI)  and Sea Grant of Alison Mikulyuk, herself a graduate of that very same limnology program. She is the first-ever coordinator of Water@UW-Madison.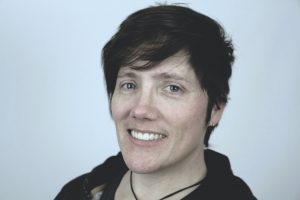 "I'm excited to join the team at the Aquatic Sciences Center." Mikulyuk continued, "I want to build and support a caring and connected network of water researchers, one that encourages exchange and innovation. I envision a healthy and productive collaborative group, where we work together across disciplines, across agencies and with communities to find new ways of asking and answering the questions that matter for fresh water."
Water@UW-Madison had its own beginnings more than a decade ago when a handful of water scientists—including Jake Vander Zanden, the current director of the Center for Limnology—formed an organization to foster connections among students, staff and faculty with water interests and studies. The goal at the time, Vander Zanden said, was to facilitate greater interdisciplinary collaboration and exploration.
Water@UW-Madison sponsors a fall poster session, spring symposium, student mentoring, a summer undergraduate research experience and art and freshwater science collaborations. It hosts an informative website and during the academic year publishes a weekly newsletter. In sum, it pulls together and amplifies the water expertise of more than 130 faculty and staff across more than 40 departments and programs on the Madison campus.

It further strives to broaden its reach to other campuses in the University of Wisconsin System, along with private colleges, government agencies, non-governmental organizations and civil society in Wisconsin and beyond.
Mikulyuk will also support the WRI and Sea Grant research enterprise and the programs' robust fellowship initiatives that place post-graduates in settings with state agencies, offering cutting-edge skills and knowledge to the agencies, along with mentoring, networking opportunities and experience for the fellows.
Additionally, she will also oversee the Freshwater@UW Summer Research Scholars Program, which pairs undergraduates with research mentors. The program is in its second year and 2023 opportunities are now available for application until Feb. 15.