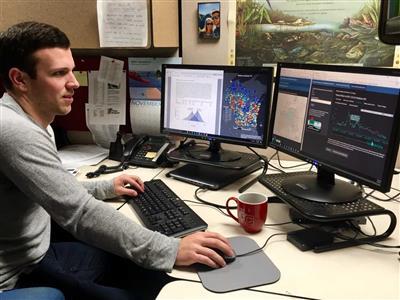 By Marie Zhuikov
Wisconsin's first-ever full-time postgraduate Water Resources Policy Fellow is wrapping up his work to help water quality managers assess and protect water quality across the state. Alex Latzka worked side-by-side this past year with Wisconsin Department of Natural Resources (DNR) professionals to study and model the amount of sediment (total suspended solids) in streams.
Latzka and colleagues with the DNR developed a computer model that predicted daily sediment loads in streams based mostly on upstream land use and daily precipitation. To make the model more useful for regional and county biologists who manage stream water quality, he developed tools that allow them to view and interpret the model's findings for specific streams.
Latzka's fellowship was funded equally by the DNR and the University of Wisconsin Water Resources Institute. The goal was to allow a recent postgraduate to apply their newly minted skills toward real-world science policy challenges. During the fellowship, Latzka was able to add to the knowledge he gained during his Ph.D. studies in freshwater and marine sciences from the University of Wisconsin-Madison's Center for Limnology.
"Working with the DNR staff for this fellowship was an outstanding, mutually beneficial experience," Latzka said. "I was able to bring some skills and devote time to an area of need for the DNR, while learning the institutional processes behind resource management for the state."
Latzka also said the experience prepared him for his new position as a full-time database specialist in the DNR's Fisheries Management Bureau, where he is developing similar tools to those he worked on during his fellowship.
"This project led not only to workforce professional development, but to cutting-edge modeling and innovative technologies aimed directly at the needs of water resource managers," said Jennifer Hauxwell, Wisconsin Sea Grant assistant director for research and student engagement. "The results and tools that Alex has developed will help decision-makers identify streams that need water-quality improvements and assess the impacts of their efforts. They will go a long way in allowing for better water-quality management across the state."
For additional information about the tools or the fellowship, contact Latzka at Alexander.Latzka@wisconsin.gov.